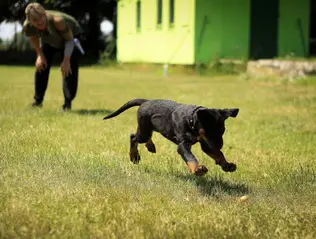 Ease your concerns about leaving your pet behind while you're away: Let our qualified staff take care of them! We will provide your dog or cat with a safe and comfortable atmosphere. We provide the amenities you are looking for: single or multiple occupancy kennels so pets can stay with housemates or be alone as desired, clean bedding and plenty of time to exercise in our individual outdoor fenced areas. No group exercise is allowed to ensure the safety of all pets. Toys and other personal items (excluding animal bones, antlers and rawhides) that are easily washable are welcome. If these items are being overly chewed and destroyed, staff will remove them for safety reasons. We are happy to accommodate any special care or needs your pet might have, including administering medications, supplements or monitoring health conditions they are facing. If you will be bringing medications or supplements for your pet during their boarding stay – please bring these items in their original labeled prescription bottle. Please do not bring medications or supplements in a pill organizer or a Ziploc bag.


Boarding at a veterinary hospital has great advantages. Our veterinary technicians and kennel staff get to know your pet well, regularly checking on the pets and notifying a doctor if your pets behavior is abnormal. You will have peace of mind knowing that one of our veterinarians will promptly begin treatment if your pet gets sick during his or her stay.


To keep all our patients as healthy as possible, we require pets that are boarding with us to have current Rabies and Distemper vaccinations, along with other species-specific vaccinations, like Bordatella (Kennel Cough) vaccine for dogs. Vaccination boosters need to be done at least two weeks before boarding.
If you would like to tour our boarding facility please come see us Monday through Friday during regular business hours. Because of a busy hospital schedule the lunch hour is our best tour time when staff will be available to show you around and answer questions.